---
The number of people overdosing on illicit and pharmaceutical drugs has steadily increased every year over the past two decades. The two most recent years (2020 and 2021) saw the greatest increase in overdose deaths. In 1999, there were less than 20,000 overdose deaths recorded by the National Center for Health Statistics (NCHS) at the Centers for Disease Control. By 2019, the total number of overdose deaths had reached an appalling 70,630 deaths. Just a year later, overdose deaths had skyrocketed to 91,799 in 2020 and then to 106,699 in 2021. These deaths include unintentional drug poisoning, suicidal drug poisoning, homicidal drug poisoning and drug poisoning of undetermined intent. Synthetic and prescription opioids are driving this public health crisis.
Drug overdose deaths are a public health concern, with fentanyl and prescription opioids driving the crisis
The NCHS data is analyzed and made available to the public on the CDC's Wide-ranging Online Data for Epidemiological Research (Wonder). Drug abuse and overdose affect both genders but are markedly greater in the male cohort. In 2021, approximately 69 percent of the overdose cases occurred among males and 21 percent occurred among females.
From 2019 to 2021, the greatest driver of overdose deaths was synthetic opioids (primarily fentanyl). Deaths involving synthetic opioids other than methadone accounted for 70,601 of the overdose deaths reported in 2021. Opioid-involved overdose deaths rose from 21,089 in 2010 to 47,600 in 2017 and remained steady through 2019. Overdose of prescription opioids has become an issue in the last decade, with the death rate spiking between 2016 and 2020. In 2021, the number of reported deaths involving prescription opioids totaled 16,706, only a slight decrease from 2020. From 2015 to 2021, synthetic opioids like fentanyl were the main driver of overdose deaths, accounting for a nearly 7.5-fold increase in deaths in that time span.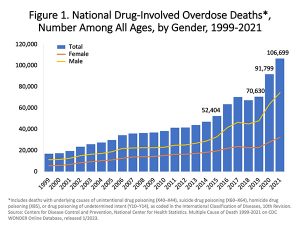 Overdose of antidepressants, heroin, cocaine and methamphetamine are also driving the crisis
Death by psycho-stimulants such as methamphetamines are also on the rise, accounting for 32,537 of the deaths in 2021. The number of deaths involving stimulants has increased steadily since 2014 regardless of opioid involvement.
Cocaine overdoses are also driving overdose deaths in the United States. In 2015, cocaine overdoses were responsible for 6,784 deaths, and by 2021 that number had quadrupled to 24,486 deaths. Markedly, cocaine-involved deaths rose nearly 54 percent from 2019 to 2021, with 24,486 deaths.
Heroin overdoses steadily increased from 2011 to 2015 and peaked in 2016 and 2017, but have fallen slightly since then. Drug overdose deaths involving benzodiazepines steadily increased from 1,135 in 1999 to 11,537 in 2017. After a slight decline in 2019 to 9,711 deaths, benzodiazepine deaths rose again in 2021 to 12,499.
Drug overdose deaths involving antidepressants have steadily increased since 1999, from 1,749 deaths to 5,269 in 2017. This issue continues with 5,859 deaths by antidepressants recorded in 2021. These numbers do not include any homicides or school shootings that were committed by suicidal or homicidal individuals overdosing on antidepressants or withdrawing from them.
For the latest on the opioid crisis, check out the research at Opioids.News.
Sources include:
Submit a correction >>